First Nation, Métis, Inuit (FNMI) Committee

Open Our Hearts...Open Our Minds: A Journey of Acceptance of First Nations, Métis, and Inuit Culture.
Durham Catholic District School Board and St. Mary celebrate October 2018 as First Nations, Métis, and Inuit (FNMI) awareness month.
Orange Shirt Day "Every Child Matters"
To launch the beginning of the month students are encouraged to wear orange first layers on Friday, September 28th 2018 (Sunday, September 30th is Orange shirt Day). Orange Shirt Day is a legacy of the St. Joseph Mission (SJM) residential school commemoration event held in Williams Lake, BC, Canada, in the spring of 2013. It grew out of Phyllis' story of having her shiny new orange shirt taken away on her first day of school at the Mission, and it has become an opportunity to keep the discussion on all aspects of residential schools happening annually. Orange Shirt Day is also an opportunity for First Nations, local governments, schools and communities to come together in the spirit of reconciliation and hope for generations of children to come. The following website has a video and information that provides more details www.orangeshirtday.org
Raising Awareness of First Nations Metis & Inuit Issues Assembly
Earl Lambert with be our special guests at our Raising Awareness of First Nations Metis & Inuit Issues Assembly on Wednesday, October 24th.
Earl Lambert is a young Cree Warrior originally from Dawson Creek, BC, but now resides in Brantford, Ontario. His dynamic and entertaining way of connecting with all age groups and a diverse range of audiences has made him popular with various organizations, schools, conferences and First Nations communities across Canada. Earl Lambert has worked as an Executive Director for a First Nations non-profit organization, a College Instructor of Business, a Life-Skills, Employment and Business Facilitator, an HIV/AIDS Educator, an Advocate, Fundraiser and Events Coordinator for various homeless initiatives and lastly, as a Programs Developer and Group Facilitator for an Aboriginal Child and Family services organization.
Educational Display Cases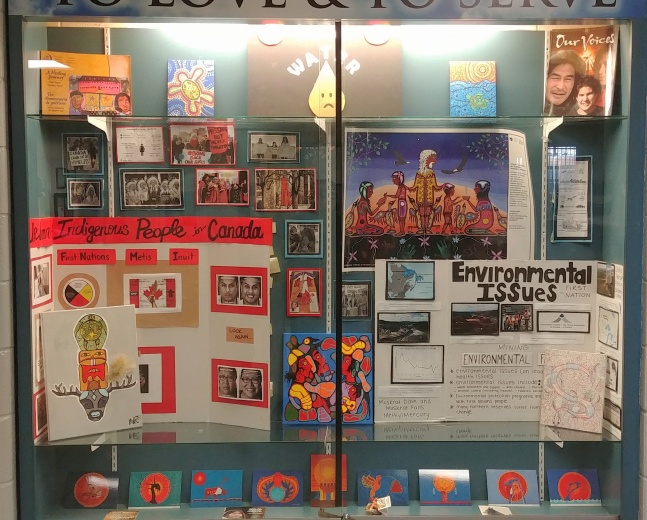 Treaties Recognition Week: November 5 - 9, 2018
Treaties represent a relationship built on mutual peace, respect and friendship. They are a way to explain how parties intend to "treat" each other for the duration of a relationship. Treaties recognize First Nations as self-governing nations - as acknowledged and protected by the Royal Proclamation of 1763 and the Canadian Constitution. There are obligations and benefits on both sides of the Treaties.
In order to promote public education and awareness about treaties and treaty relationships, the province of Ontario has designated the first week of November as Treaties Recognition Week - November 5 to 9, 2018.
For more information
Extra-curricular opportunities
Please visit DCDSB: Indigenous Education for more information.
The First Nations, Métis, Inuit (FNMI) Committee meets on a regular basis to listen to guest speakers, go on field trips and work to support FNMI issues. See Ms. Hudson in Room 207 and Ms. Hyland in 243 to join us!