Mathematics
The study of Mathematics is integral in order to function as a contributing citizen and life-long learner in today's society. Our department's goal is to instill students with an appreciation for Mathematics and prepare them with the necessary mathematical and literacy skills necessary for their selected post-secondary pathway.
Course outlines
Course outlines are intended to provide students with an overall plan for a course to enable them to function efficiently and effectively in the course.
Prerequisite Chart
For the various Mathematics courses offered at St. Mary, please visit the COURSE CALENDAR on Career Cruising.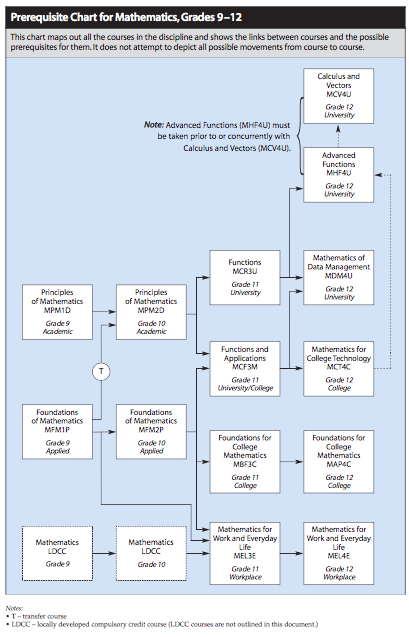 Math Contests
At St. Mary Catholic Secondary School, students from all grades have the opportunity to enroll in mathematics contests to extend their mathematical repertoire beyond the school curriculum.
Dates of upcoming math contests include:
Contest
Date of Contest
Deadline to Register
Canadian Open Math Challenge (11/12)
Nov. 2, 2017
Oct. 10, 2017
Canadian Senior (11/12) and Intermediate (9/10) Math Contest
Nov. 22, 2017
Nov. 3, 2017
Pascal 9, Cayley 10, Fermat 11
Feb. 27, 2018
Feb. 9, 2018
Canadian Math Team Contest (12)
April 5, 2018
Feb. 23, 2018
Euclid Contest (11/12)
April 11, 2018
March 22, 2018
Fryer 9, Galois 10, Hapatia 11
April 12, 2018
March 23, 2018
Math League Contests (12)

Oct. 17, 2017

Nov. 14, 2017

Dec. 12, 2017

Jan. 9, 2018

Feb. 13, 2018

Mar. 20, 2018
Informaton on past contest papers and registration deadlines are available at the COMC, University of Waterloo, and Math League.
Grade 9 EQAO Assessment of Mathematics
The Grade 9 Assessment of Mathematics tests the math skills students are expected to have learned by the end of Grade 9. Different versions of the test are administered in the academic and the applied math courses. Students in first-semester math courses take the test during a two-week testing window in January; students in second-semester or full-year math courses take the test during a two-week testing window in June. For more information and examples of the assessment and scoring materials, please visit Education Quality and Assessment Office (EQAO).
Math resources
The following math resources are available to help you achieve success.