August 2019
Report Card & Diploma Pickup: Tuesday July 2 - Friday July 5 (Main Office: 8am - 3pm)
Summer Hours: Please note St. Mary Main and Guidance Offices are only open Mondays to Thursdays.
If you are picking up report cards or diplomas, please contact the school first to ensure that there is someone in the office to assist you.
Head Start: Monday August 19 - Thursday August 22
A summer transition program for students entering Grade 9. Head Start gives students an overview of math and literacy, while providing study tips and strategies to achieve success in high school. Students also receive an orientation and tour of the school and start to make new friends.

---
Register for school
We welcome students of all faiths at our Durham Catholic secondary schools.
Registration for Grade 8 students currently attending our family of schools (Father Fenelon, St. Elizabeth Seton, St. Isaac Jogues, St. Joseph-Uxbridge, St. Monica, or St. Wilfrid) is processed by St. Mary Guidance Counsellors in the elementary school classroom. Incoming Grade 8 students may want to visit our Transitioning to High School/Head Start page for a variety of information specific to Grade 9.
ALL PROSPECTIVE St. Mary students with a Pickering/Uxbridge home address MUST complete a Pre-Admission Package (excluding students from our Associate Elementary Schools who live within the St. Mary boundary). Print the Pre-Admission Package, complete and submit to Guidance with ALL required documentation. No appointment is necessary to submit the documents. Please note this package is required prior to scheduling course selection. The registration process is ongoing throughout the year, but for September 2019 enrollment, please submit applications by February 15th, 2019 to allow for spring registration meetings with Guidance Counsellors.
ANY PROSPECTIVE STUDENTS who are NEW to our Board MUST complete the DCDSB Online Student Application IN ADDITION to the Pre-Admission package. Please submit the Pre-Admission Package as soon as possible once you have submitted the online application.
Any student who DOES NOT live at a Pickering/Uxbridge address must contact the Guidance Office for further instruction.
Once the application has been approved by Administration, Guidance will contact you to schedule the course selection appointment.
Please call Guidance Administrative Assistant (x56020) for further details.
---
DCDSB Celebrates 50 years of Catholic Education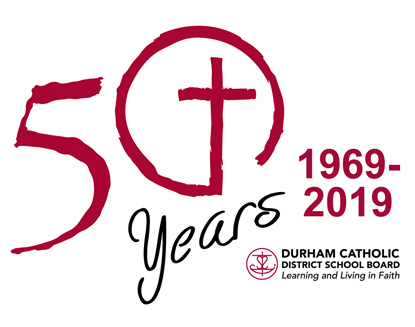 ---
Register for School Cash Online
School Cash Online is the preferred method of payment at St. Mary. With this new online payment service, you'll be able to pay for your child's school fees online such as class trips, school activities fees, and athletic wear. You will no longer need to send in cash or write a cheque for school purchases.
School Contact
1918 Whites Road
Pickering ON L1V 1R9
905-420-7166
Durham Catholic District School Board | Report It | Mental Health Information
Principal: Mrs. Susan Duane
Vice-Principal: Ms. Maureen O'Reilly (A-F)
Vice-Principal: Mr. Mike O'Neill (G-O)
Vice-Principal: Mr. Dan Allen (P-Z)
---
Hours
8:55 - Warning Bell
9:00 - School Begins
9:00 - 10:20 - Period 1
10:25 - 11:40 - Period 2
11:40 - 12:20 - Period 3A, Lunch 1
12:20 - 1:00 - Period 3B, Lunch 2
1:00 - 1:40 - Period 3C, Lunch 3
1:45 - 3:00 - Period 4
3:00 - Dismissal