French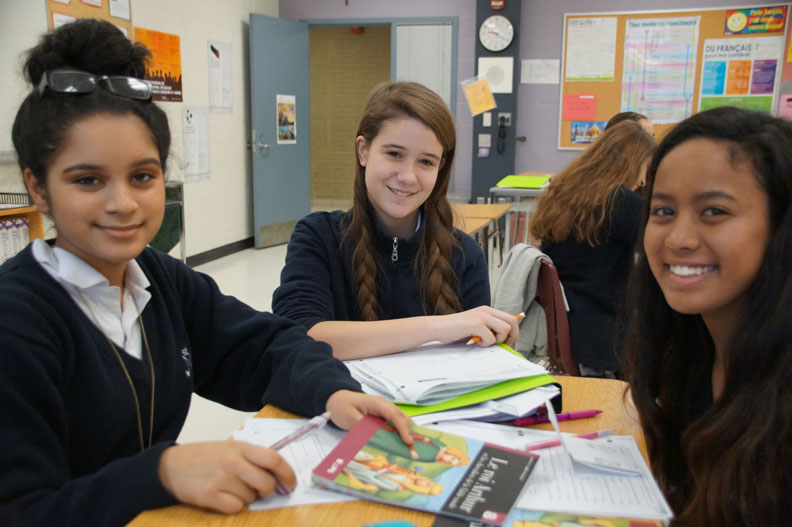 At St. Mary Catholic Secondary School we are proud to offer Core French (French as a Second Language) and Extended French programs for students in Grades 9 to 12. The goal of these program is to develop overall skills and communication in French.
Opening Doors to Opportunities
As a Board, we value the learning of French and recognize the many benefits that French language-skills provide students. Our French language programs open doors to opportunities! Watch the video below to learn more about what our elementary and secondary students have to share about learning French.
Studying French
The study of French is an important part of the secondary school curriculum. French is one of Canada's two official languages, but also widely used around the world.
As one of Canada's two official languages, the study of French is an important part of the secondary school curriculum. Widely used around the world, the ability to read, write, listen and speak in French is valuable for a number of reasons. Learning French allows students to:
strengthen their first-language skills;
enhance their critical and creative thinking abilities;
increase their understanding of other cultures; and
gain career advantages.
Goals of French as a Second Language programs
The primary goal of French as a Second Language (FSL) programs in Ontario is to increase students' confidence and proficiency to use French effectively in their daily lives. All FSL programs emphasize the development of:
listening;
speaking;
reading; and
writing skills.
Core French Program
All secondary students must complete a minimum of one French credit to earn an Ontario Secondary School Diploma. Grade 9 students have the option of studying Core French at an academic, applied and open level. In Grades 10 - 12, Core French is offered at the academic and university level.
For more information on the Core French Program, please contact Mr. Joseph Longo, Curriculum Chair of English and Modern Languages, at 905-420-7166 (ext. 56019).
Extended French Program
The secondary Extended French program offers a minimum of seven courses in French which include four French language courses (one per grade) and at least three other subjects taught in French (see table below). Students who have completed Extended French or a French Immersion programs in elementary school can continue their French language studies at the secondary level.
Secondary students are required to complete 30 credits to receive their Ontario Secondary School Diploma. The Extended French program requires students to complete 10 of the 30 credits in French. Upon completion, our students receive an Extended French certificate at graduation. The chart below outlines the courses students are required to take in French.
| Grade 9 | Grade 10 | Grade 11 | Grade 12 |
| --- | --- | --- | --- |
| French | French | French | French |
| Religion | Religion | World Religions | Religion (optional) |
| Geography | History | | |
| Health and Physical Education | Careers and Civics (optional) | | |
For more information on the Extended French Program, please contact Mlle. Nicole Oster, Interim Curriculum Chair of Extended French, at 905-420-7166 (ext 40433).
Beyond the Classroom: St. Donat Winter Wonderland (February 8 - 12, 2017)
This year, to complement our program, the St. Mary Extended French Department invites you to share with us the excitement of offering our students the opportunity to truly live and enjoy life in a French community, and to share with students from different parts of our country a winter wonderland all while using the French language.
The opportunity is offered through the company "Perspectives" who have located their programme in Saint-Donat, Quebec. This area of Quebec is known for winter scenes that are worthy of Alpine memories. The students of the Durham Catholic School Board have participated with this excursion for many years, guided by the experienced personnel of "Perspectives", which is highly skilled in providing a warm fun environment for language learning.
For more information
Students who are interested in participating should contact Mlle Oster (Room 124, x40433).
Resources
Alternative and Enrichement Education
Explore: Explore is a five-week intensive summer language-immersion program. Participants in Explore receive a $2,200 bursary (taxable income) that covers tuition fees for the programs, instructional materials, meals and accommodations, workshops, and other mandatory activities. Discover another region of Canada while learning French. Enjoy five weeks of learning and adventure, friendship and discovery!
International Student Exchange - Ontario (ISE): ISE a registered not-for-profit corporation, has a proud tradition of providing exceptional reciprocal exchange programs for Ontario elementary and secondary students with France, Switzerland, Spain, Italy, Germany & Quebec! In cooperation with Ontario school boards, ISE ONTARIO is pleased to offer Ontario students the opportunity to invest in their future as they develop and improve their language skills, discover exciting cultures and places, and make friendships abroad.