Mental Health Information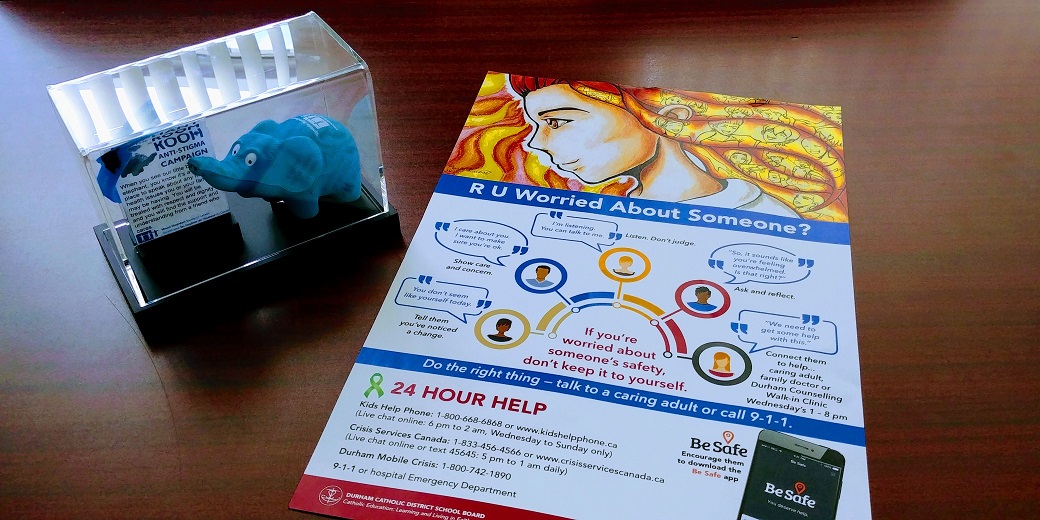 What is Well-Being?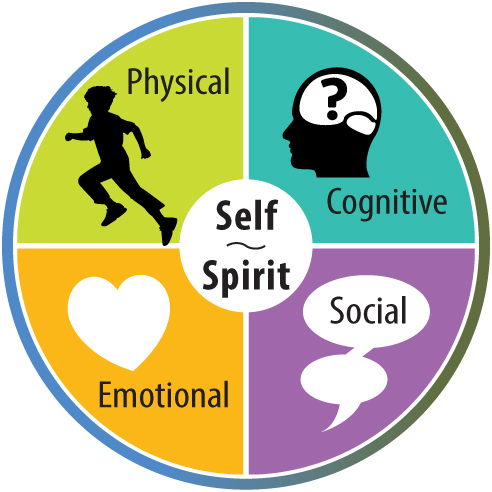 Well-being is a positive sense of self, spirit and belonging that is felt when our cognitive, emotional, social and physical needs are being met. It is supported through equity and respect for our diverse identities and strengths.
Well-being in early years and school settings is about helping children and students become resilient, so that they can make positive and healthy choices to support learning and achievement both now and in the future.
Research has shown that approximately 1 in 5 Canadian students has a mental health problem. Beyond the focus on symptoms and disorders, we are seeing a shift towards understanding that developing positive mental health is important to academic achievement and overall well-being.
The Durham Catholic School Board has developed a Mental Health and Addiction Strategy titled Together for Mental Health, with a mission of creating caring and supportive Catholic school communities that promote wellbeing and maximize achievement of all learners.
The Ministry of Education is looking to develop a shared vision of how we can best support the well-being of all students, in collaboration with parents, students, educators and administrators, counsellors, social workers, and community partners across the province. For more information, please visit Ministry of Education: Promoting Well-Being.
Positive mental health
Positive mental health includes all students and supports the goal of prevention, inclusion, compassionate support and healthy development. All students need to have opportunities to develop their gifts, be physically active, achieve a true sense of belonging, experience joy and learn social and emotional resiliency skills for their lives. Mental health promotion should be a whole school and whole community approach, encompassing all of us.
Strategies to foster positive mental health in children
The following are strategies that parents can use to promote positive mental health in their children:
Create a sense of belonging - build strong, positive relationships;
Encourage good physical health, including adequate sleep, healthy eating and exercise;
Make time for regular family meals;
Encourage creative outlets;
Develop your child's competencies;
Keep the lines of communication open;
Model good mental and physical health habits;
Have a predictable routine;
Foster volunteering and helpfulness;
Bring fun and playfulness into your child's life.
Building resiliency in our students
Resiliency is the ability to handle life's ups and downs in positive ways; the ability to deal with disappointments and bounce back from challenges. Individuals develop skills for resilience when they are successfully engaged in school activities, have opportunities to develop positive relationship skills, and strengthen their confidence in problem solving. Adults, including parents and teachers, play an important role in helping a student engage in the school environment and access resources needed for success and wellbeing.
The following resources from Durham Region Health Department can help your children or teens become resilient:
Where to get help if you or your child is struggling with mental health concerns
The following resources and supports are available in Durham Region. Your family doctor can also be a source of information and support, and can provide referrals to specialized services.
Type of Support

Resources and Supports available in Durham Region

In crisis

(need immediate support)

Durham Mobile Crisis: 1-800-742-1890
Durham Distress Centre: 1-800-452-0688
911 or visit nearest hospital emergency department

Non-crisis

(need support or counseling)

Centralized Intake: 1-888-454-6275 (a central number to access children and youth mental health services from Kinark, Frontenac, Chimo, Lakeridge Health and Ontario Shores Centre for Mental Health)
Carea Community Health Centre: 905-723-0036
Catholic Family Services: 1-877-282-8932
Durham Mental Health Services: 905-666-0831 (adults)
Family Services Durham: 1-866-840-6697
Frontenac Youth Services Walk-in Clinic (Fridays 9:00 a.m - 2:30 p.m.; ages 12-18): Clients and their families interested in accessing this service must first contact and complete a telephone referral through Central Intake Services at 1-888-454-6275 prior to attending the walk-in clinic.
Canadian Mental Health Association Durham: 905-436-8760
C

area Community Health Centre: 905-723-0036

Big White Wall - a free online mental health and well-being service offering self-help programs and safe, anonymous online support, 24/7 for age 16+.

Help Phone Lines

Kids Help Phone: 1-800-668-6868 or by texting CONNECT to 686868, youth can chat confidentially with a trained, volunteer crisis responder for support with any issue (age 5-20).
Durham Health Connection Line: 1-800-841-2719
Good 2 Talk: 1-866-925-5454 (age 17-25)
Ontario Mental Health Helpline: 1-866-531-2600
Web resources
The tables below provide some recommended websites for parents and students to find helpful information related to mental health.
Websites for Parents and Students
Anxiety BC - a website for youth and parents to access resources, information and interactive tools for coping with stress and anxiety.
Children's Mental Health Ontario - information and resources for parents, children and youth, as well as teachers and mental health professionals.
Carea Community Health Centre (Pickering, Ajax, Oshawa) - is a non-profit charitable organization providing a variety of free, community programs and services including: health promotion and wellness programs; primary care, counselling and mental health; youth programs; and Aboriginal programs.
Durham Talking about Mental Illness (TAMI) Coalition - this local website provides resources and information for parents, teachers and students.
AboutKidsHealth - a health education resource for children, youth and caregivers that is approved by health care providers at the Hospital for Sick Children. Mental health resources cover well-being, anxiety disorders, mood disorders and more.
Pinewood Centre (Lakeridge Health) - The Child, Youth and Family Program (CYFP) provides services for children and adolescents, aged 5 to 18, who are struggling with serious mental health issues. We offer crisis intervention, an inpatient unit and outpatient services (e.g. eating disorders, addictions)
Websites for Students
Kids Help Phone - information on a variety of mental health topics and social issues; confidential phone and web counselling for youth up to age 20.
Mind Your Mind - a website for youth and young adults to access resources and interactive tools for mental health and wellness.
Be Safe app - download this app and be informed on the mental health help available in Durham Region. It allows youth to make a safety plan and helps make decisions about appropriate help in a crisis.
My Tool Kit - an interactive online resource that uses videos, mobile apps and education modules for youth.
Our top priority is the safety and well-being of all students. All students deserve to learn in a place where they feel safe. We want to know about incidents of bullying and other safety concerns so that we can take action and prevent further incidents from happening. We take issues of bullying and school safety very seriously. We encourage parents and students to report incidents of bullying or other school safety concerns as soon as it happens. Speak with a teacher or school administration to provide information about the situation, or use our Report It tool.
This year, the Durham Catholic District School Board will be celebrating both the November and February bullying prevention awareness weeks with the theme Walking Together to Promote a Positive School Community. As we work together to create safe and caring school communities we are reminded of the mercy, tenderheartedness, and loving compassion that God has shown to his people.
As part of our Board's Mental Health and Addiction Strategy - Together for Mental Health, a suicide prevention and intervention protocol has been developed, based on current research and best practice, outlining a clear step-by-step response that will be enacted when staff become aware of student suicidal thoughts or behaviour. Please visit our Suicide Prevention page for more information.