Christmas Outreach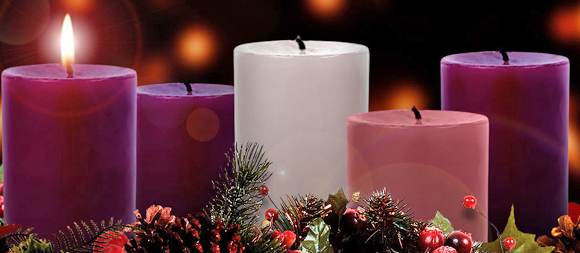 Advent is the liturgical season that precedes and prepares for Christmas. It is a season of hope and of longing, of joyful expectation and of peaceful preparation.
We await your coming with joyful hearts and so we pray:
Come, Lord Jesus.
You come to bring us hope and courage:
May our hearts be open and receptive to receive the many blessings you wish to give us.
You come as a reflection of God's love:
May our actions of justice and care reflect this same love.
You come to show us ways of compassion and mercy:
May we reach out to all people in our society with that same spirit of compassion and mercy.
Christmas Outreach Campaign
Christmas is not as much about opening presents as opening our hearts. During Advent, the St. Mary community unites to help spread the joy of the season through our annual Christmas Outreach Campaign.
The Christmas Outreach Campaign supports families who are connected to St. Mary, as well as Holy Redeemer and St. Isaac Jogues parishes, and the Pickering community through school-wide fundraisers, food and gift donations.
How you can donate
Donations are collected in homeroom classes during the Advent Season (Monday December 3rd - Friday December 14th, 2018). Suggested items include:
grocery, retail, gas, and restaurant gift cards (e.g., Walmart, Loblaws/Metro/No Frills/Fresh Co/Independent, Pickering Town Centre, Shoppers Drug Mart, Canadian Tire/Home Depot)
non-perishable food items (e.g., cereal, juice boxes, school snacks, granola bars, peanut butter, condiments, rice, pasta, pasta sauce, soup, hot chocolate/tea/coffee, canned fish/meat/vegetables/fruit)
hygiene products (e.g., soap, shampoo, toothpaste, toothbrushes, body products)
comfort items (e.g., mitts, hats, scarves, socks, candy/chocolates)
books, games, toys, and school supplies for children
The money collected from our school-wide fundraisers (e.g., Bingo, Christmas Angels, Wellness Kits, Bake Sale) is donated to the Christmas Outreach fund:
Christmas Angels: Buy a Christmas Angel for a family member, a friend, a stranger or for yourself and the angel will go on St. Mary's Christmas tree. These Angels will be offered up as prayers for the person you bought it for on the day of the School's Advent Mass.
Bingo: Bring money starting Monday and all week next week to buy bingo cards for Bingo during last period. (50 cents for 1 card 3 cards for $1).
Community Bake Sale: Get members in your homeroom to bake Christmas deserts and bring in the deserts on Thursday December 6 to room 204. Retreat Leaders will sell them for you and the money that you make will go towards your homeroom family!
Photo Booth: Take a picture with your friends in the library over the lunches and student council will develop them for you! Use them as Christmas cards. Christmas props will be available. (Each picture is $1 for 2 pics and $2 for 3 pics).
Christmas Mental Wellness Kits: will be sold over the lunches. Buy one for your friend and Santa Claus will deliver the kit to your friend on Dec. 14.

Development & Peace - Share the Journey: Buy out of period 1. Every minute, 31 people are forced to leave their homes. The majority of them live in the poorest countries in the world under extremely difficult conditions. Armed conflict, climate change, development mega-projects, persecution. The causes of forced displacement are multiple, interwoven and complex. It is time to step up! In solidarity with the 68.5 million forcibly displaced children, women and men around the world, we are encouraging all members of the St. Mary community to walk a total of 40,075 km, the equivalent of the Earth's circumference, by August 31, 2019. In an effort to raise awareness and raise funds for our Christmas Outreach Campaign we are asking students to give $2 to their teacher as a buy out to walk during their class. The kilometres covered by each student will be added together and recorded on the Development & Peace website!
Christmas Fun Fair: Drop-In over all three lunches, Thursday December 13th. $1 entry fee & prizes for top scores. Activities include: free throw; keep ups; bean bag toss; ball pong; ping pong; tower building; face painting ($1)
Contact Us
For more information, please contact our Chaplain: Mr. T. Valookaran (ext. 56028), or our Christmas Outreach Teacher-Coordinators: Ms. T. Veloso (ext. 40461) and Ms. C. Minardi (ext. 40460).