Cooperative Education

"Your talent is God's gift to you. What you do with it is your gift back to God." Leo Buscgalia
What is your Individual Pathways Plan?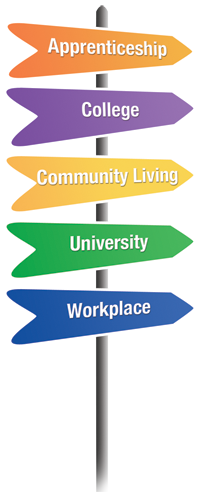 There are many ways to journey toward work. The journey involves the transition from grade-to-grade and to life after high school to one of the post-secondary destinations of: Apprenticeship, College, Community Living, University or the Workplace.
A "pathway" refers to the individual journey that each student will take that includes experiential learning, school and community supports, courses and programs that will help lead to a successful transition to a post-secondary destination.
Students are life-long learners. The idea of planning a pathway toward an educational goal should be focused, yet flexible. Educational goals can change over time. The ultimate goal of a student is to find and enjoy meaningful work.
As a Catholic learning community, we are committed to helping our students develop skills and work habits which will help them throughout their educational journeys in preparation for post-secondary education, community living and the workplace. Based on the seven guiding principles of our Catholic Graduate Expectations, these specialized program pathways provide opportunities for students to become effective communicators, lifelong learners and collaborative contributors in our global community.
A Cooperative Education program allows students to participate in valuable learning experiences that help prepare them for the next stage of their lives to help students develop a plan that will ultimately assist them in achieving their academic and experiential learning goals.
What is Cooperative Education?
Cooperative education is a program that allows students to earn secondary school credits while completing a work placement in the community. Through Cooperative Education, students are given an opportunity to apply concepts and expectations of specific school subjects during a work placement. There is a classroom component and a placement component. Pre-placement classroom sessions will include health and safety training, review of job search skills, confidentiality, work ethics, the role of unions and a Personalized Placement Learning Plan for each student. Students return to school on specified dates for reflective learning activities related to their workplace experiences. Together the classroom and the work placement provide students with:
Credits toward the O.S.S.D.
Valuable experience for future career destinations
Hands on training for employment opportunities after graduation
Apprenticeship training in the skilled trades during secondary school
Assessment and evaluation of learning
How Does Cooperative Education Benefit Students?
Cooperative education gives students the opportunity to:
make connections between school and work and to "try out" a career of interest before finalizing plans for post-secondary
education, training, or employment;
see the relevance of their classroom learning in a work setting;
develop the essential skills and work habits required in the workplace and acquire a direct understanding of employer and
workplace expectations;
gain valuable work experience to help build their résumé for post-secondary programs and future employment;
experience authentic and purposeful learning outside a traditional classroom setting.
How Does Cooperative Education Help Students Meet Ontario Secondary School Diploma (OSSD) requirements?
Cooperative Education is a credit granting program of 2 or 4 credits. The number of credits depends on the length of the experience in the program:
2 credits (Half-day a.m. or p.m.) = 220+ hours in one semester
4 credits (Full-day) = 440+ hours in one semester
Cooperative education credits may be used to meet up to two of the 18 compulsory credit requirements for an OSSD. Students may also earn optional credits for the OSSD through cooperative education courses.
Evaluation is based on personal management skills, class and workplace participation, career and workplace research, daily log sheets, reflective journals, teacher and workplace supervisor performance appraisals and demonstrations of subject expectations.
Under the ministry-approved framework for the new Specialist High Skills Major (SHSM) designation within the OSSD, students must earn a minimum of two cooperative education credits as one of the five required components of a SHSM. Cooperative education credits are also a required component of other specialized programs, such as school-to-work and school-to-apprenticeship (OYAP) programs.
Application
Cooperative education teachers and placement supervisors are looking for students who demonstrate a positive attitude, possess a strong work ethic based on gospel values, have a sense of responsibility and who are committed to learning.
If you are interested in taking cooperative education, complete the application form and return the completed form to your guidance teacher.
Admission Requirements
Student Profile:

Co-op teachers and placement supervisors are looking for students who demonstrate a positive attitude, possess a strong work ethic based on gospel values, have a sense of responsibility and who are committed to learning.

Students must:

have completed the grade 10 Career Studies course (GLC2O)
have earned sixteen credits
complete a Co-op application form in addition to the school option sheet (application forms are available in both the Co-op and Guidance offices)
have written parent/guardian consent
make a serious commitment to fulfill obligations to St. Mary C.S.S. and to the Cooperative Education placement supervisor
make a good impression during an interview for selection in to the program
Participation can depend on a number of factors including:

student's attendance record, teacher references and approval of administration
availability of a work placement and the suitability of the applicant for the placement
successful completion of the related school subject prior to the work placement or the concurrent timetabling of both the subject and the Cooperative Education placement
specific selection criteria required by some placements which will be discussed during the interview for selection
Costs:

Students must provide their own safety equipment for all jobs where required.
Students are responsible for transportation to and from the placement site, and it is the recommendation of the school
that students use public transit, and this may require the purchase of a public transit bus pass.
Students may have costs related to vaccinations, medical tests or criminal record checks.
Specialized Programs Associated with Cooperative Education (OYAP & SHSM)
Ontario Youth Apprenticeship Program (OYAP)
The Ontario Youth Apprenticeship Program (OYAP) is a school-to-work program that opens the door for students to explore and work in apprenticeship occupations starting in Grade 11 or Grade 12 through the Cooperative Education program. Students have an opportunity to become registered apprentices and work towards becoming certified journey persons in a skilled trade while completing their secondary school diplomas.
The Regional Level One OYAP Program offers a student the opportunity to earn high school credits, college credits, register as an apprentice, complete part or all of Level One apprenticeship schooling in a specific trade, and earn hours towards his or her apprenticeship training. Students will complete their in-class Level One apprenticeship training combined with a cooperative education placement in the trade. Prior to being registered as an apprentice, students will participate in specific trade related Cooperative Education work placements to determine their suitability for apprenticeship registration. Students qualify for Regional Level One OYAP programs in their grade 12 year. This is an exit program. DCDSB offers the following centralized programs:
Automotive Service Technician
Child Development Practitioner
Cook
Electrician
General Carpenter
Industrial Mechanic Millwright
Hairstylist
Plumber
Welder
The admission requirements for OYAP are:
Applicants must be at least 16 years of age
Applicants must be in grade 11 or 12, with 16 credits completed
Applicants should demonstrate an interest and aptitude in a skilled trade
Applicants must have some related course background in their trade of interest
Applicants must have acceptable attendance records and teacher references
OYAP Application forms are processed through the St. Mary Cooperative Education office.
For further information:
Specialized High Skills Major (SHSM)
A SHSM is a ministry-approved specialized program that allows students to focus their learning on a specific economic sector while meeting the requirements of an OSSD. One of the five required components of a SHSM is the earning of a minimum 2 cooperative education credits that provide authentic learning experiences in a workplace setting, enabling students to refine, extend, and practice sector-specific knowledge and skills.
St. Mary SHSM programs include:
Arts and Culture
Business
Non-Profit
Transportation
SHSM Application forms are processed through their respective Teacher Coordinators.
For further information:
Night and Summer School Cooperative Education
For information on Night School and Summer School Co-Op programs, please visit DCDSB Continuing Education
Night and Summer School Co-op Application forms are processed through Guidance (May/June for Summer School).
Contact Us
For more information, visit the Co-Op Office (in Guidance) or speak to one of the Co-op/Work Experience Teachers.
| | | |
| --- | --- | --- |
| Teacher | Subject | Phone Extension |
| Mrs. M. Wilson-Clark | Cooperative Education | 56033 |
| Mrs. B. Hunter | Cooperative Education & Work Experience | 56032 |
| Ms. N. Gallagher | Work Experience (Sem 2) | 56040 |
Resources