Stand Up To Bullying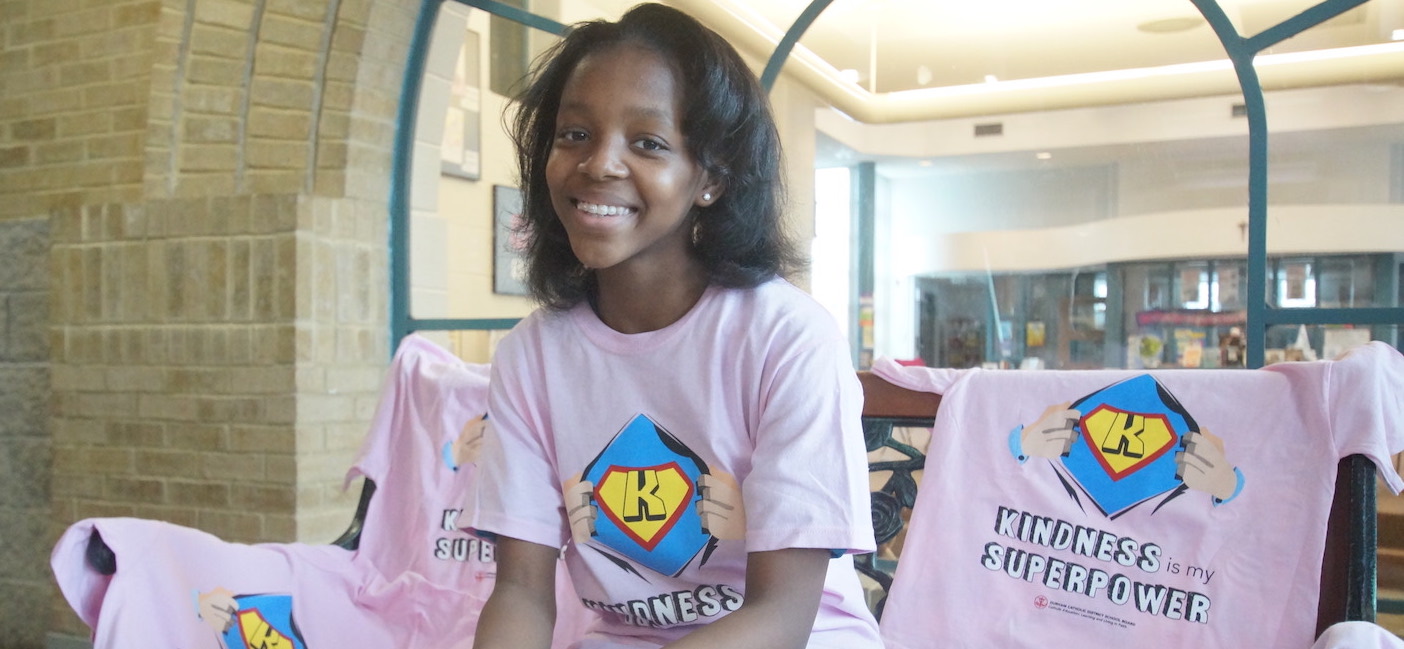 Walking Together to Promote a Positive School Community
Congratulations to Mr. Pisani's Grade 12 Media Arts Students for their winning video entry in the DCDSB's "Kindness is my Superpower" multi-media contest 2016-2017.
Congratulations to Grade 12 Visual Art student, Alicia Kastanis, for her winning painting in the DCDSB's "Kindness is my Superpower" multi-media contest 2016-2017.
National Bullying Awareness Week (November 13 - 17, 2017) & Stand Up to Bullying Week (February 26 - March 2, 2018)
This year, the Durham Catholic District School Board will be celebrating both the November and February bullying prevention awareness weeks with the theme Serving My School Community Through Acts of Kindness. As we work together to create safe and caring school communities, we are reminded of the mercy, tenderheartedness, and loving compassion that God has shown to his people.
Our theme of Serving My School Community Through Acts of Kindness reminds all members of the school community that showing service through acts of kindness helps ensure that students feel they are welcomed members of our school community.
In addition to our morning prayers and announcements, here is each daily challenge for November National Bully Awareness Week:
Monday, November 13th
Make your hands the hands of Christ today by helping someone you see who is struggling or in need. This could be as simple as opening the door for someone who has their hands full, or helping someone in your class to understand their work better.
Tuesday, November 14th
Make your words echo today on Social Media by using the Hashtag SMILE or LOVE.

Wednesday, November 15th
Before noon today, celebrate six people by giving them a high-five or a fist pump because you've seen them be the living expression of God's kindness through their service to someone in need.
Thursday, November 16th
At lunch today include someone who you feel is alone. Invite them to eat with you so you can get to know them better and so they feel part of your group.
Serving my School Community through Acts of Kindness Multi Media Contest (2017-2018)
In an effort to promote positive school climate across all of our schools, students and classes are invited to participate in a multi-media contest based on the theme of "Serving My School Community Through Acts of Kindness". The contest is open to all students in Kindergarten to Grade 12. Individuals and classes are invited to create any form of media presentation (poster, art, sculpture, Powerpoint presentation, video, public service announcement etc) that focuses on this year's theme of creating a positive school climate through acts of kindness and should demonstrate a positive action we take, as opposed to an anti-type campaign.
Individual or class submissions will be accepted and may include:
A short video (maximum 3 minutes) *note: winning presentations are shared across the system and posted on the Board website; therefore any music that is included in the video must be copyright right free.
Slide presentation (maximum 3 minutes)
Posters
Art - prints, paintings, sculptures, models, etc.
The winning entries will be used during Stand up to Bullying Week in February and acknowledged and celebrated at the February Board meeting. Individual student or class submissions will be accepted. St. Mary is allowed to submit 3 entries. Please see Ms. Denomme for more information.
Deadline for submission is Friday December 8, 2017.
Beyond the Hurt Workshops (2016 - 2017)
Grade 11 Students from the GPP3O2 Retreat Leadership class will be visiting Grade 7/8 classes in our associate elementary schools to facilitate Red Cross' Beyond the Hurt workshops. The Canadian Red Cross' Beyond the Hurt program supports a school-wide approach to preventing bullying and building empathy and respect. Grade 11 Retreat Leadership students participated in a 2 day training workshop in December and are eager to share their experience with our future St. Mary students.
Stand Up to Bullying T-Shirts
National Pink T-Shirt Day is Wednesday February 22, 2017. St. Mary Stand Up To Bullying T-Shirts are on sale in the atrium and can be worn as a first layer (Feb 21st - 24th) for the week. Stand Up (former design = $2), Upstander (new design, below = $4). Each t-shirt comes with a treat!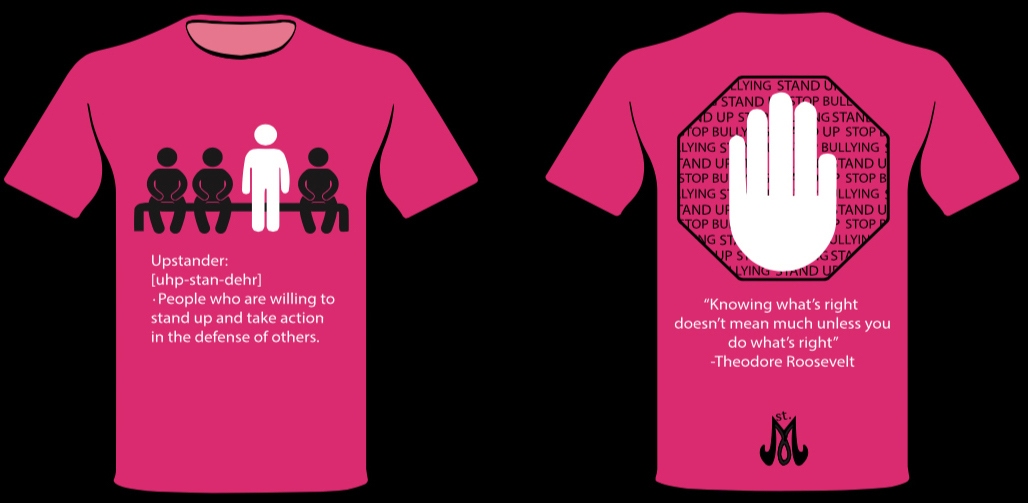 Report It
Report It is a tool for parents and students to advise us of non-emergency incidents of bullying and other school safety issues (for example vandalism). It is not monitored on a 24/7 basis. If this is an emergency, call 911.
Our top priority is the safety and well-being of all students. All students deserve to learn in a place where they feel safe. We want to know about incidents of bullying and other safety concerns so that we can take action and prevent further incidents from happening. We take issues of bullying and school safety very seriously.
We encourage parents and students to report incidents of bullying or other school safety concerns as soon as it happens. Speak with a teacher or school administration to provide information about the situation.