Remembrance Day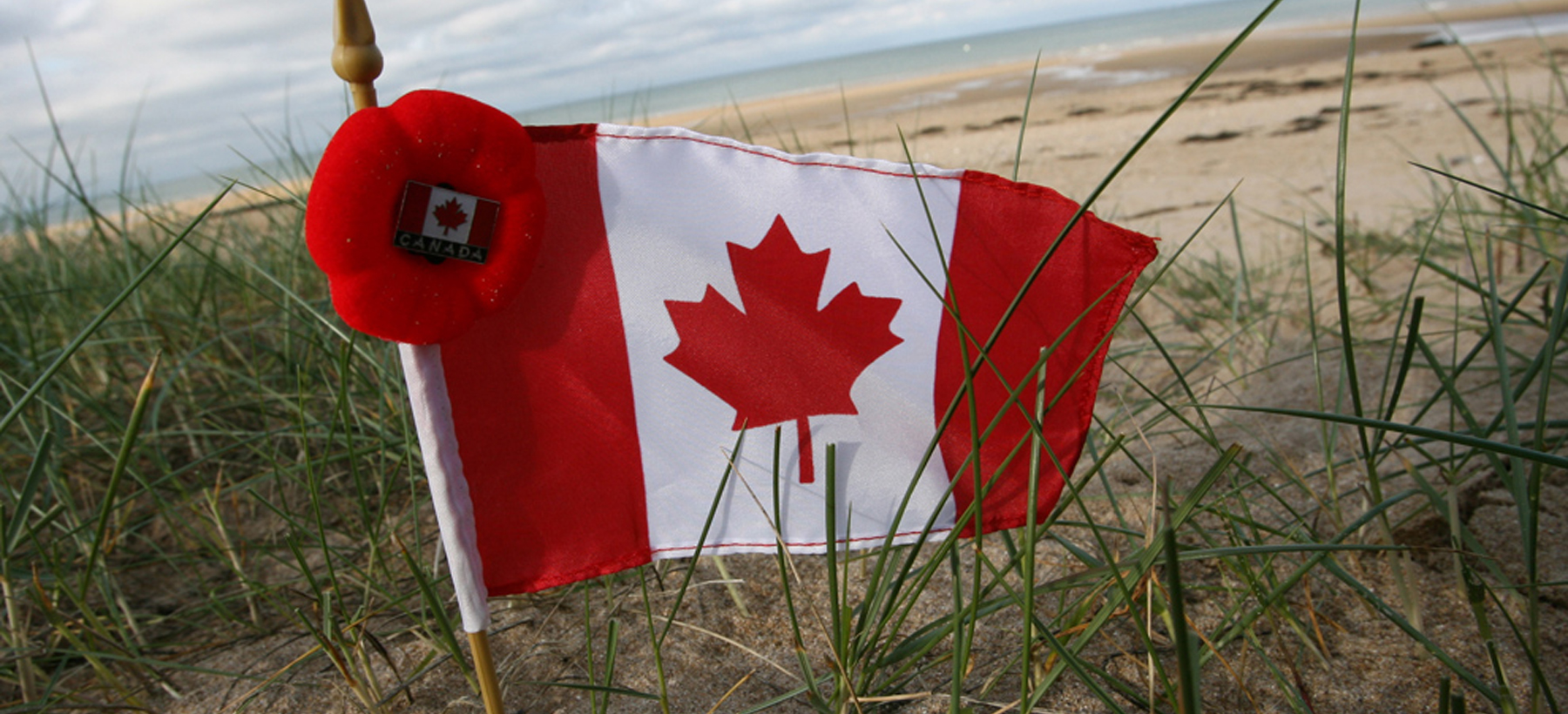 For more information, please visit:
Every year we would like to invite the family members and veterans from within in our community to join us. Cadets who would like to volunteer to assist with the St. Mary assembly should contact Mr. Zimmer in room 239 or at ext 40434.
Remembrance Day 2020
St. Mary will be having a virtual assembly on November 11th.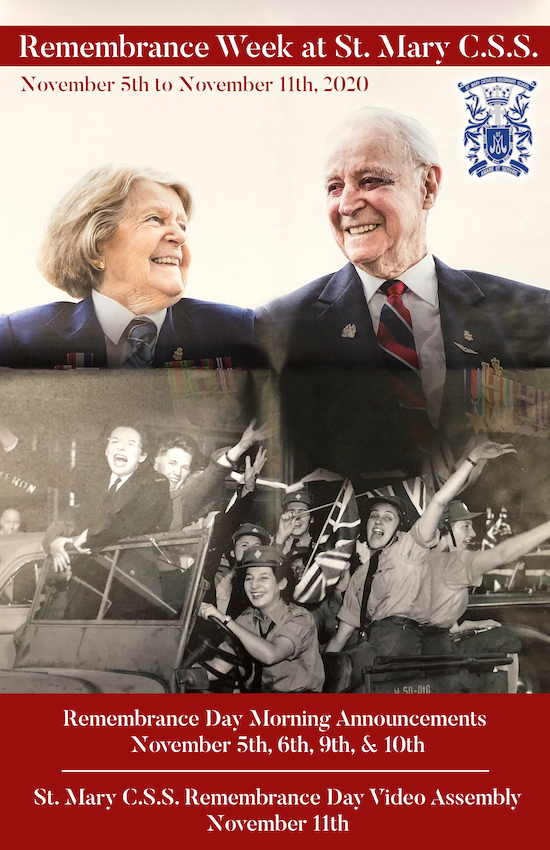 Veterans' Week at St. Mary CSS is on from November 5th and 11th and this year is the 75th anniversary of the end of Second World War. Even though we live during some difficult times and personal challenges, we should never forget the many young Canadian men and women who entered very difficult and dangerous situations to defend Canada and its Allies. St. Mary CSS will remember, Remembrance Day morning announcements, WWII theme tweets, a special display case, and a Remembrance Day Video Assembly on November 11th and 12th in homeroom classes.
Remembrance Day Morning Announcements
The Contributions of Black Canadians in Military Service
The tradition of military service by Black Canadians goes back long before Confederation. Black soldiers participated in the War of 1812, helping defend Upper Canada against American attacks, including the Battle of Queenston Heights. Approximately 1000 Black militia fighting in five companies also played an important role in the Upper Canadian Rebellion (1837–1839), even taking part in important events such as the Battle of Toronto. In the late 1850s, hundreds of Black settlers from Vancouver Island organized the Victoria Pioneer Rifle Corps, an all-Black volunteer force, and the first officially-authorized militia unit in the West Coast colony.
The First World War witnessed tremendous service and sacrifice by Black Canadians. At the outset of the First World War many Black Canadians were eager to serve their country. On July 5, 1916, the No. 2 Construction Battalion was created in Pictou, Nova Scotia—the first large Black military unit in Canadian history. Recruitment took place across the nation and more than 600 men were accepted from Nova Scotia, New Brunswick, Ontario, and the West. The Black Battalion's chaplain was Reverend William White and he was given the rank of Honorary Captain. William White was one of the few Black commissioned officers to serve in the Canadian Army in WWI. The battalion was sent to eastern France in 1917 where they served with the Canadian Forestry Corps. There they helped provide the lumber required to maintain trenches on the front lines, as well as helped make roads and railways.
In addition, an estimated 2,000 Black Canadians, were determined to get to the front lines and join regular units. Black Canadian heroes participated in the famous battle of Vimy Ridge in 1917. Jeremiah Jones of Truro, Nova Scotia enlisted in the 106th Battalion (Nova Scotia Rifles). At Vimy Ridge, Private Jones' unit was attacked by machine gun fire. Jeremiah volunteered to attack the enemy position, getting close enough to throw a grenade that eliminated the threat of the gun position. The surviving German soldiers surrendered to Jones and he had them carry the machine gun back to his commanding officer!
Black Canadians also made important contributions on the home front. They helped achieve victory by working in factories making the weapons and supplies, and by taking part in patriotic activities like raising funds for the war effort.
Black Canadians continued to heroically serve and protect Canada following the Great War, including WWII, the Korean War, and more recently in Afghanistan. To learn more about Black Canadians in the Second World War, check out our school's twitter page today to learn about Mr. Lester Brown who fought on D-Day in WWII.
To show how you remember and appreciate the veterans like Jeremiah, try to make remembrance more than something you feel, make it something you do. There are many ways to show that you remember and honour our Veterans:
• Pin a poppy above your heart.
• Listen to Veterans talk about their experiences.
• Learn about our past soldiers on Veteran Affairs.ca
• Use Facebook, Twitter, Instagram ,etc.. to show you remember Canada's Veterans by changing your profile photo to a poppy.
However you choose to remember, be sure you tell a friend, or a family member. Together, it is our duty to pass on the legacy and remember the sacrifice that all our Canadian soldiers made and continue to do today.
Remembrance Day 2019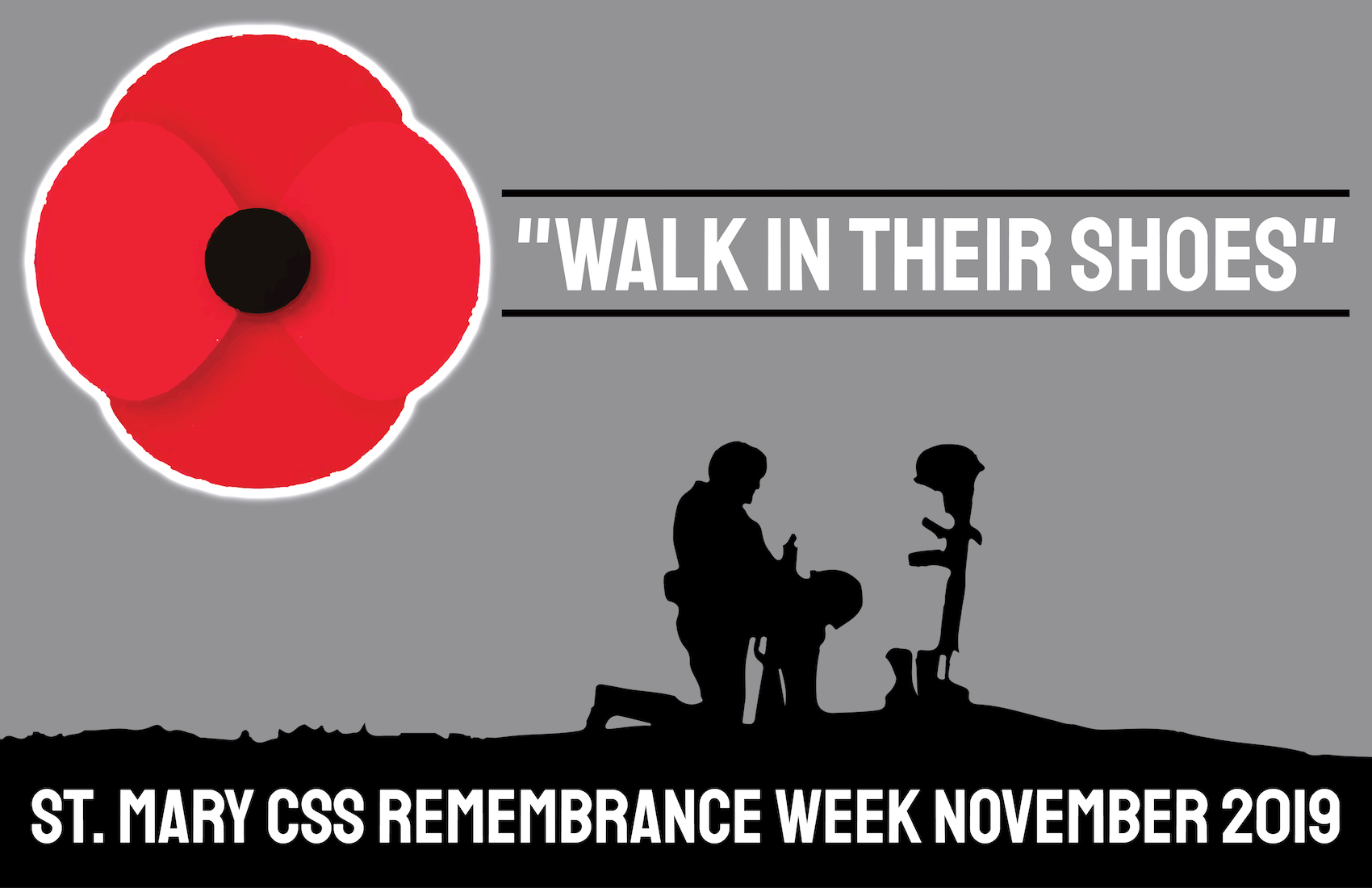 Remembrance Day 2018
Canada's Hundred Days and the Armistice 100th anniversary - 1918-2018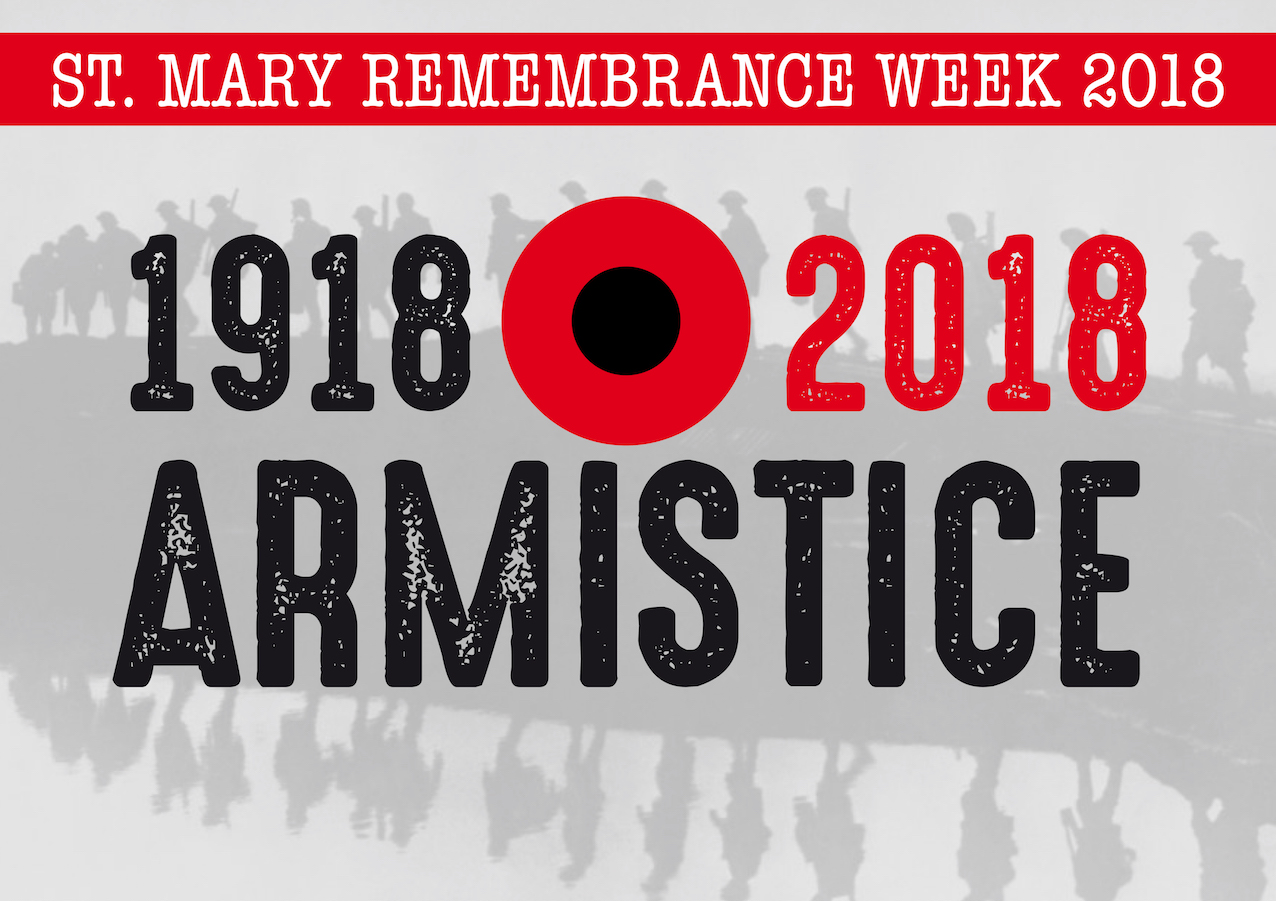 For more information, please visit: Veteran's Affairs Canada - 100th Annniversary of Canada's Hundred Days and the Armistice
Remembrance Day 2017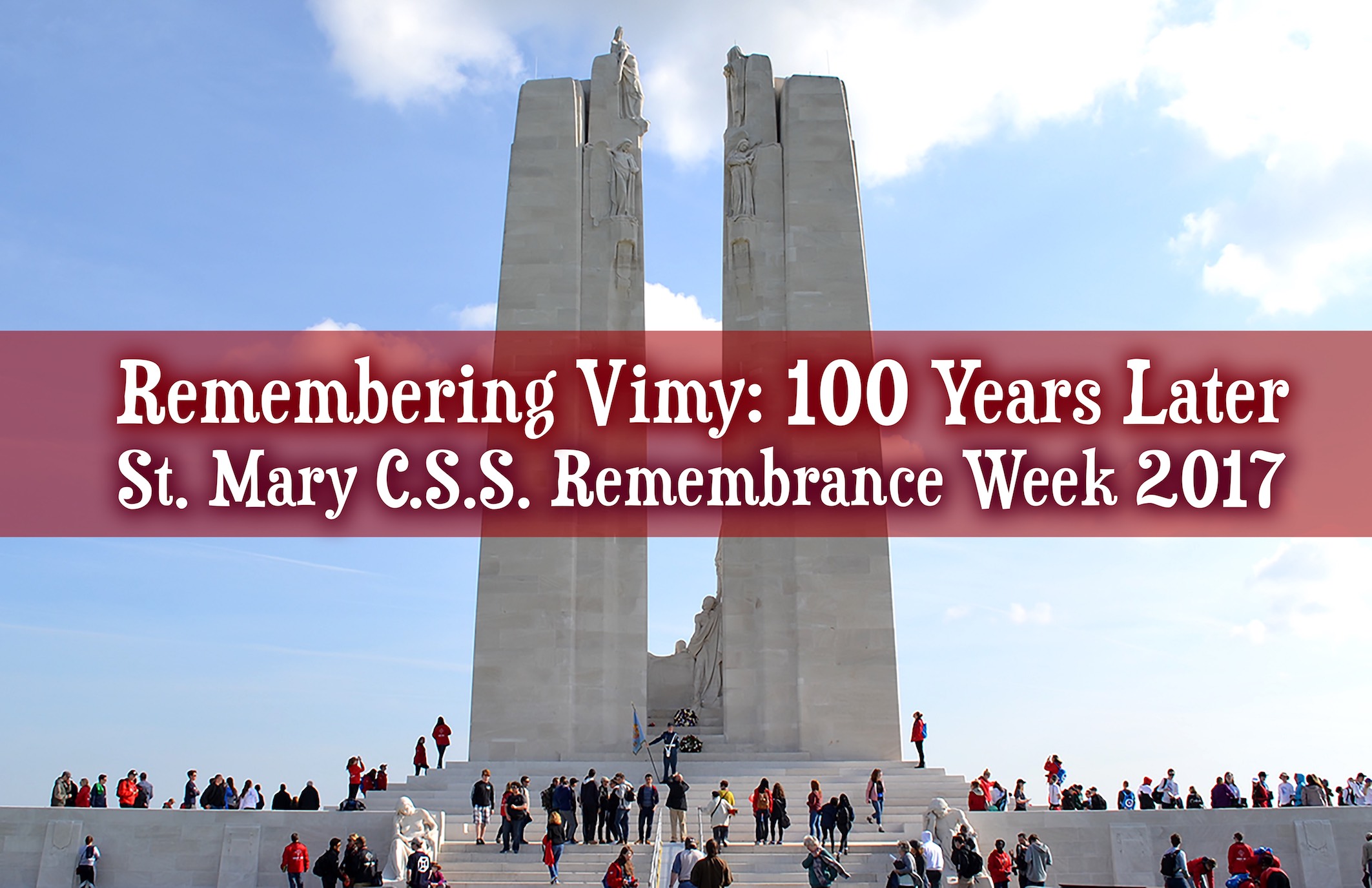 Commemorating the 100th Anniversary of the Battle of Vimy Ridge: Beaches and Battlefields
The Department of Canada & World Studies/Social Sciences' overseas trip took place between April 6th to April 17th, 2017. Thirty St. Mary CSS students visited the Netherlands, France and the UK. Students visited cities including Amsterdam, Paris and London and their tour including the Anne Frank House, the Eiffel Tower and St. Paul's Cathedral. In France, our students will be among thousands of Canadian youth in attendance for the 100th Anniversary Commemoration of the Battle of Vimy Ridge. Students also visited the new Vimy Education Centre. We would like to thank Principal O'Brien/ Main Office, EF Tours, parents and especially our great group of students for a wonderful learning experience.
On April 9th, 1917 Canada won its most celebrated battle during World War One. Vimy Ridge marked a turning point in the war and a turning point in Canada's history. Vimy Ridge was a major point to control along the Western Front because it allowed those that held it a view of the entire area. Both the French and British forces tried to take back this point from Germany and both failed. The Canadians were called upon to spearhead the attack. Canadian General Arthur Currie spent months planning the attack, going over every detail to ensure that the victory would be a success. Finally in the early hours of April 9th 100000 Canadians, fighting together for the first time, advanced on the German fortifications and with great speed, and the assistance of British and Moroccan troops, capture the enemies position. One soldier wrote of the battle:
" The resounding victory, the first in Britain's two and a half years of war, gave every man a feeling of pride, the more so because the long battle line to our right had failed. A national spirit was born, and now to be British was not enough: we were Canadian and could do a good job of padding our own course."
It is felt by many that Vimy ridge is the place were Canada started to get a sense of what it was and began the process of evolution to the country we all live in today. What does being a Canadian mean to you?
Nearly 12 years ago St. Mary students and teachers went on a tour of Vimy Ridge, where our brave soldiers fought so effectively against the Germans. We saw the tunnels that were built, the remains of equipment and the preserved trenches. We learned that the cratered area of Vimy contains one unexploded shell or Grande for every meter of land along the ridge. To see how close the German and Canadian trenches were was mind-boggling.
We then began the walk up the hill; the same hill the Canadians had to force their way up in 1917 and arrived at the Vimy Memorial. As the twin spires rose upward, toward the clear blue sky, I could not help but be taken in by the sheer beauty and majesty of what I was seeing. After an examination of the monument I sat on one of its many steps and reflected. I looked at the country side covered in craters could feel the enormity of the event. I looked over the path I took to walk up to the monument and imagined the soldiers fighting their way up the path where I had walked. I sat and I just felt. I closed my eyes and all around me I felt the presence of God. In this place of war, this battlefield I felt God's love everywhere. I also felt immense joy. My heart filled with love, pride, and happiness as there on a Ridge in Vimy France I thought of Canada and truly felt blessed to live in a country as great as ours. We don't think about that to often. How many of us can feel Canada around us. Until I sat there at Vimy I never had and now my heart was filled with this immense pride.
How do you give back to all Canada has given you? It's more than waving a flag or wearing a jersey or even cheering a hockey team during the Olympics. How many of you think about what this country has given you. This country is one of freedoms. It is the freedom to say what you want without the fear of being killed. It is the freedom to be whom you want. Canada is not perfect, far from it, but we are a family. What Canadian should be was displayed on a ridge that rises above the Village of Vimy. What all of us should be was displayed there too. Being Canadian is not about wearing a Maple Leaf.
Being Canadian is a feeling of pride, its courage to stand up for what we believe in, it is honour. It is being a hero when called upon. It is to love and to serve. This is how the values of those fallen soldiers live on in us. It is everything we wear a poppy for. It is everything worth dying for. And for this we remember. On November 11th, be sure to take the two minutes to reflect, pray and give thanks for all you have.
Craig Zimmer
History teacher, Dept. of Canada/World Studies