Register for St. Mary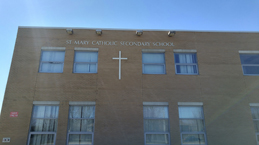 We welcome students of all faiths at our Durham Catholic secondary schools.
ALL PROSPECTIVE St. Mary students MUST complete a Pre-Admission Package (excluding students from our Associate Elementary Schools who live within the St. Mary boundary). Print off the package using the attached link, complete and submit to Guidance with ALL required documentation.
ANY PROSPECTIVE STUDENTS who are NEW to the Durham Catholic District School Board MUST complete the DCDSB Online Student Application IN ADDITION to the Pre-Admission package.
Call our Guidance office at 905-420-7166 ext. 56020 if you have any questions.
School Contact
1918 Whites Road
905-420-7166
Board Website | Bullying Report
Principal: Michael O'Brien
Vice-Principal: Jonathan Di Ianni (G-O)
Vice-Principal: Kelly Denomme (P-Z)
Vice-Principal: Maureen O'Reilly (A-F)
---
Hours
8:55 - Warning Bell
9:00 - School Begins
9:00 - 10:20 - Period 1
10:25 - 11:40 - Period 2
11:40 - 12:20 - Period 3A, Lunch 1
12:20 - 1:00 - Period 3B, Lunch 2
1:00 - 1:40 - Period 3C, Lunch 3
1:45 - 3:00 - Period 4
3:00 - Dismissal