NEWS FROM GUIDANCE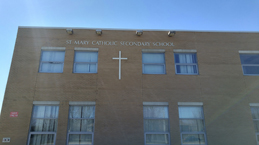 REGISTRATION: We welcome students of all faiths at our Durham Catholic secondary schools. Please visit the Guidance home page for information regarding the Pre-Admission Application process.
TAKE OUR KIDS TO WORK: On Wednesday, November 2, 2016, all Grade 9 students will be participating in the province-wide "Take Our Kids to Work" day, when parents/guardians, will be taking your child to work with you.
POST-SECONDARY PLANNING: For information on post-secondary pathways of Apprenticeship, College, Community Living, University, and the workplace, please visit Guidance: Getting Ready for Post-Secondary.
School Contact
1918 Whites Road
905-420-7166
Board Website | Bullying Report
Principal: Michael O'Brien
Vice-Principal: Jonathan Di Ianni (G-O)
Vice-Principal: Kelly Denomme (P-Z)
Vice-Principal: Patti Wilson (Interim for Maureen O'Reilly) (A-F)
---
Hours
8:55 - Warning Bell
9:00 - School Begins
9:00 - 10:20 - Period 1
10:25 - 11:40 - Period 2
11:40 - 12:20 - Period 3A, Lunch 1
12:20 - 1:00 - Period 3B, Lunch 2
1:00 - 1:40 - Period 3C, Lunch 3
1:45 - 3:00 - Period 4
3:00 - Dismissal