Extra and Co-Curricular Activites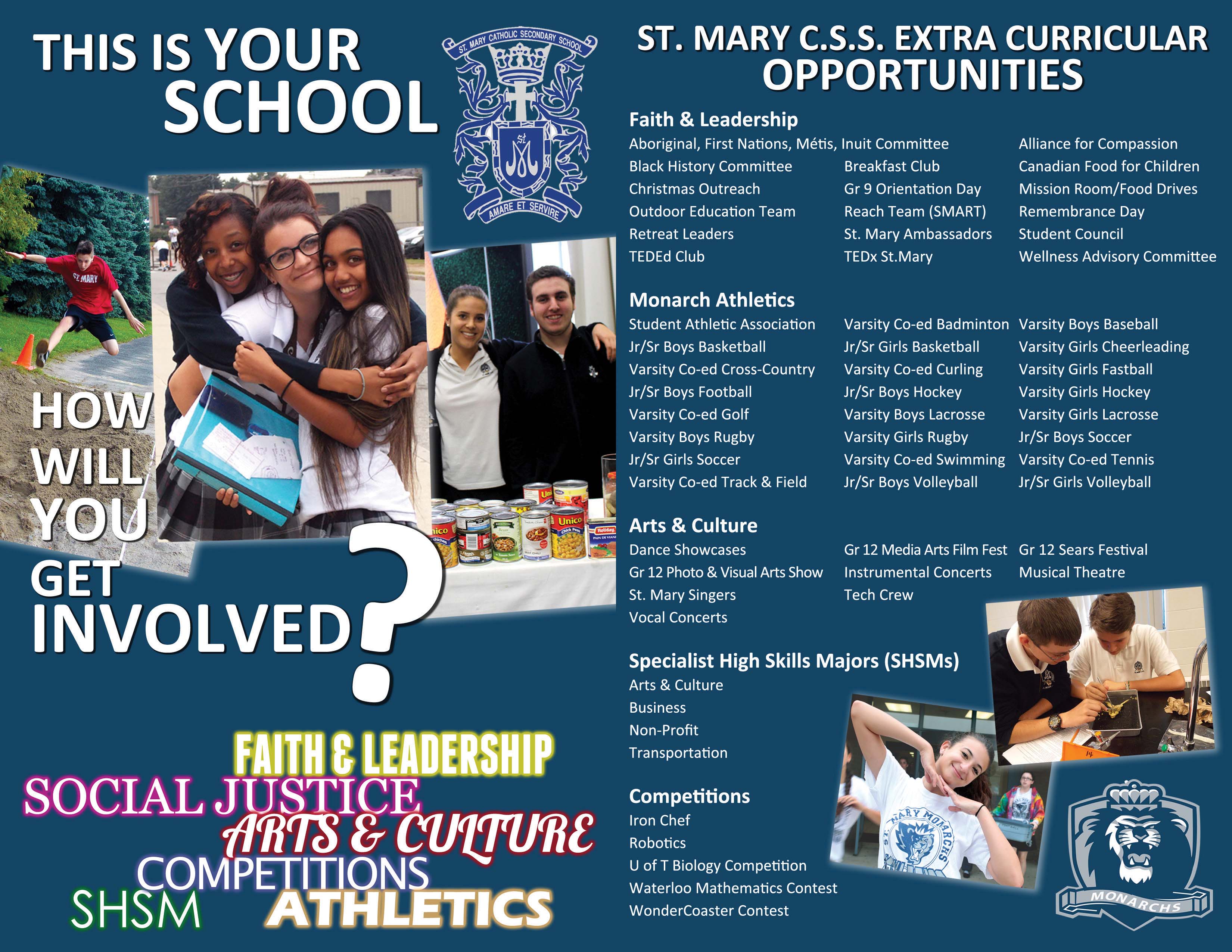 Academics
Peer Tutoring: If you are interested in being a Peer Tutor, or would like to be Peer Tutored, see your Guidance Counsellor for application forms.
Exam Preparation Tips: A guide created by GPP3O2 Retreat Leadership students for students - action planning, time management, and study tips.
Geography (CGC1D/1P) Clinic: Wednesdays in Room 229 (3 - 4 pm)
Science Clinic: Wednesdays in Room 265 (3 - 4pm)
Students Striving for Success (S3) - Literacy and Numeracy After School Clinic: S3 is a FREE extra help clinic for Grade 9 and 10 students that offers the opportunity to improve your grades, time management and study skills through a 6 week workshop series that focuses on enhancing your literacy and numeracy skills in the core courses of study. Wednesdays in November - January and May - June in the library (3 - 4pm). See Ms. T. Baglole (Student Success Teacher) or a Guidance Counsellor for more information. November 2018 - January 2019 Information and Permission Forms
Online Math Homework Help (Gr 7 - 10). Get started with the Homework Help Guide.
Arts
To see Arts Concerts and Showcases, please visit the Arts Department page.
Open Studio: Visual Arts students (Gr 9 - 12) can participate after school every Wednesday in Ms. McDavid's room 161 from 3:00-4:15
Art Club: Open to any student who enjoys art and is interested in collaborating on art projects with other artists. Every Thursday in Ms. McDavid's room 161 from 3:00-4:15.
St. Mary Singers: Practices are Mondays after school in Room 167. All are welcome! See Mrs. Yukich for more information.
Athletics
To see St. Mary Monarchs Athletic Teams, please visit the Physical Education and Health Department page.
Student Athletic Association: The objective of the S.A.A. is to promote athletics, school spirit and Monarch Pride. The S.A.A. is involved in running the annual dodge ball tournament, sport buyouts and home games. See Ms. Breaugh for more information.
LOSSA and OFSAA: All secondary school sports at the Durham Catholic District School Board are governed by the Lake Ontario Secondary School Athletics (LOSSA) and the Ontario Federation of School Athletic Associations (OFSAA). LOSSA and OFSAA are non-profit organizations that are responsible for the rules and regulations of all high school sports in Durham Region and Ontario. To access information for specific sports, visit the LOSSA and OFSAA websites.
Student's safety and sports: For the protection of your child, the Ministry of Education has mandated that every student that wishes to try out for a specific sport must have his/her parent and/or guardian complete the following forms prior to team tryouts:
Concussion: If a child has experienced a previous concussion, then the following form must be completed:
For more information, read our Board's Concussion Management and Prevention Policy. If you have any questions or concerns regarding your child's safe participation in sports activities please contact our school office.
DCDSB Travel for Credit Summer Courses (Summer 2019)

Italy & Spain: World Religion HRT3M1
France: Food & Nutrition/Food & Culture HFN2O1/HFC3M1
Italy: Archeology IDC3O1/IDC4U1
Costa Rica: Environmental Science SVN3M1
Arts and Culture
Business
Non-Profit
Transportation
Special Interest Extra-Curriculars
Alliance for Compassion: Meets Fridays after school in the Chapel. See Mr. Valookaran, Ms. Tyler, Ms. Spiers and Ms. Zeenaeme for more information.
Anime Club: We are anime and manga united here at St. Mary! We share many different types of anime and manga and provide lots of opportunities to watch, connect and create! We are more than happy accept anyone who wants to add to our anime family! We will be having contests and share prizes as well. We hope to have you join us on Thursdays in the Library Learning Commons after school! See Ms. Frysztacki in the Library Learning Commons for more information.
Eco-Club: Are you passionate about the environment, conserving energy, reducing waste, and/or interested in earning community service hours? Please see Ms. Burke for more information regarding meetings and planned activities.
First Nations, Métis, Inuit (FNMI) Committee: will be begin meeting the week of Sept 24th to prepare for an awareness week beginning October 22. If you are interested in helping see Mrs. Hudson in Room 207 or Mrs. Hyland in Room 243.
HOSA Canada (Health Occupation Students of America): HOSA meets weekly to connect students interested in a career in health science, hear from guest speakers, visit health care facilities and post-secondary schools (when possible), and prepare for both team and individual academic challenges in the health science interest of your choice at the annual HOSA Student Leadership Conference in March. HOSA meets every Tuesday after school. See Mrs. McAdam in room 265 before or after school for more information.
Law Club: Do you like debating controversial legal issues, watching crime based dramas, visiting the courthouse or discussing current cases in law? Then join a great group of like-minded students for law club in room 244 starting this October. We are also putting together a team to compete in the 2019 Kelly Cup mock trial competition. See Ms. Allore in room 244 for more information.
Model UN: Are you interested in politics? St. Mary Model UN Club gives students the opportunity to develop public speaking and diplomacy skills by debating local and global issues such as gun control and climate change. More important, students will represent St. Mary at a Model United Nations conference. For more information on the club see Mr. Ellsworth in room 123 or Ms. Cote in room 229.
Robotics Club: Meetings will begin in the fall - listen to announcements or see TV screens for start date. See Mr. O'Connor in room 257 for more information.
SMART (St. Mary Reach Team): The St. Mary Reach team meets weekly during the season to practice our skills at fast paced questions and answers quiz format games. Teams of four compete against others. In February there is a Durham Region tournament where we face teams from all the Durham Region High Schools. The winner of the tournament goes on to compete at the provincial level with dreams to compete against the best teams in Canada. We end the season with an exciting game against teachers. The teachers must work very hard to beat us! Come and join us in room 233 on Thursdays and have some fun! See Ms. Murphy for more information.
Unity: The mission of this student group is to raise awareness about the needs of racialized students in our school community, to bring about positive change through education and acceptance through compassion and to celebrate diversity! See Mr. Valookaran, Mr. Chadee, Ms. Minardi, or Ms. Walton for more information.
White Pine Book Club: Students are invited to join our St. Mary White Pine Book Club! Read a great selection of books by Canadian authors, join in lively book chats, attend a Battle of the Books competition, and have fun at our final school board White Pine Celebration. All are welcome! Visit the Library Learning Commons for more information.
Writers' Club: Are you interested in any kind of writing? Do you have a desire to share your work and your time with other like-minded people? Come join us at the St. Mary Writers' Club every other Wednesday after school in the Library Learning Commons. See Ms. Frysztacki in the Library Learning Commons for more information.
Students who participate in extra-curricular activities must represent the values of St. Mary Catholic Secondary School. Our students must show exemplary behaviour and respect for all persons or property at school or any other location where they represent the school. A student's participation in any extra-curricular activity is at the discretion of the administration.
---
Alternative and Enrichment Education
---
Community Contests & Awards
---
Community Extra-Curricular Programs